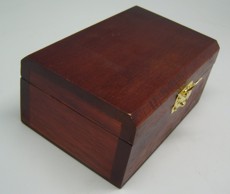 These boxes are hand made to the need of customers.
Some of them are standerd designed boxes. Materials we use to make them are MDF wood, Pine and mostly Kiaat.
If you would like us to make any one of the boxes you have or we need to design, please contact us for the pricing.
We also supply a range of different clasps and hinches.You will see that we have a big range of extra's for boxes.