We make key holders that fits the need or budget of our customers. This we do out of a range of different materials that we have.
We help with the design and then make a sample that is payable before delivery. We also have a normal range that can be branded in different ways and this will be the choice of our customers.
If there is a need for more information on the materials and designs, let us know or come and visit us.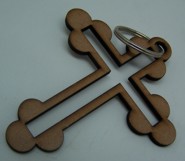 Cross 1 Key holder
{{item.currency}} {{pricing}} - Out of Stock

Add to {{item.cart_name}} for {{item.currency}} {{pricing}} {{item.currency}} {{item.normalPrice}}
{{added}}
Continue To Checkout