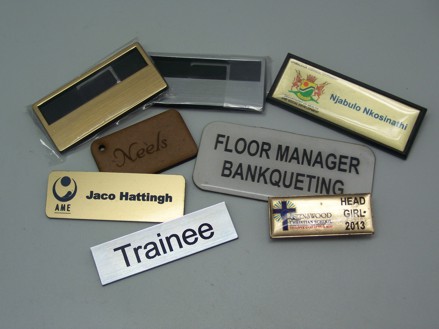 We supply and manufacture a range of Name Badges. The materials we use to manufacture the Name Badges with are ABS, Perspex, Rowmark, MDF Wood, Plexi Glass and we use Laser Engraving for the lettering of the Name Badges that we then cover with resin called doming.
You do not need to use doming.You may just engrave and use it like that.
The Name badges then are ronded of with a Magnet or a pin at the back of the Name Badge. You as client have the choice of how the Name badges are assembled.
Metal Marking can also be used for Name Badges by using Brass and Aluminuim. Please Contact us if you need more information about our Name Badges.
Please note that the more you order the better the price!